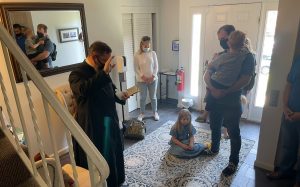 Our homes received extra help from above – as Priests from our respective Catholic Churches came to bless each of our homes. Fr. Pollard, Pastor of St. John the Beloved in McLean came to give the blessing at the Potomac House McLean; joined by our staff, the team from Paragon Home Care, and the residents. In The Potomac House Falls Church, Fr. Nyce came along with some parishioners of St. Philips and were joined by staff, residents and their families for the house blessing.
This was in line with our goal of engaging and being a part of the broader community and hopefully the first of many interactions with local faith-communities that are so vital in the overall health and well-being of so many of our residents. It was also a great way to celebrate World Day for Grandparents and the Elderly on July 25th.
Thank you Father Pollard and Father Nyce – and all who helped with the celebrations – we are now truly blessed…in more ways than one!